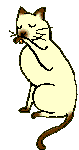 Picture of litter born August 5th below . We have a White female available from our March 6th litter .Picture of this gorgeous girl is below . Also we are pleased to say we had another litter and people on our waiting have been contacted and all are spoken for . However one of our breeder friends who used our stud Jer-Rome had a litter of 7 on May 16th and has some kittens still available . Their pictures are below .

      This is a Tortioseshell Girl with a Black collar

​   This is a Tortioseshell Girl 

    This a Red Boy with blue Collar

    This is the girl from Mar. 6th Litter called Bathsheba

        Our August 5th litter         contacting people on waiting list .