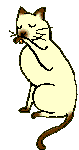 All of our treasures from the previous 2 litters are spoken for  . But Our Kimora had her litter on Sept. 6th . A Picture of her litter is below . Contacting people on waiting list . Two of the treasures were spoken for before they were born . Sorry but their now all spoken for . You can be added to our waiting list if you like .       

          Here's a Picture of Kimora's litter born Sept. 6th  Sorry to say but all of the kittens are spoken for . If one should come available folks on our waiting list will be notified .

        This is Kimora's September 16th Litter .