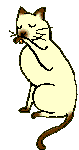 We are pleased to say we had a litter and people on our waiting have been contacted and we still have 2 Beautiful Boys available . The litter consisted of 6 and these 2 boys are now looking for their new owners . They were born on May 13th and now are 4 weeks old . One a tuxedo black and white and one black and white tabby .  

      This boy is a Black and White Tabby and we call him Baby Huey .

​   This boy is a Tuxedo , Black and White we call Zorro .  There's a HOLD on this boy !