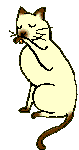 We are proud to announce that are Choco Lady had a litter on Mar. 11th and they are all spoken for . We do have 2 adorable kittens born April 15th available . One male and one female . There was 5 in the litter and these 2 still are looking for a new home . Picture of each below .

     Here's a picture of Choco Lady's Litter . 

Double click here to add text.