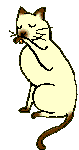 Three of our Lady's had their Babies . They each had 5 treasures. We've contacted the people on our waiting list and we have just the kittens below available from these litters .  If you like ask to be put on one of our waiting list . Also if you like you can set up a visit to see our Treasures .                      

  We call her ELLIE      Dilute Blue Cream & White                        FEMALE        

     All kittens from above and below litters are now spoken for .

      HER  HEINESS LITTER        BORN  JAN. 10th                     

          This is Wilson             Will be Gold Eyed